Scammers like to target immigrants because they are anxious and unsure about the immigration process and hope that help from or a payment to a "qualified professional" might increase their chances of positive outcome of their immigration petitions. Unfortunately, money is not the only thing an immigrant has to lose when falling for an immigration scam. Often, such actions can result in a denied petition or even deportation.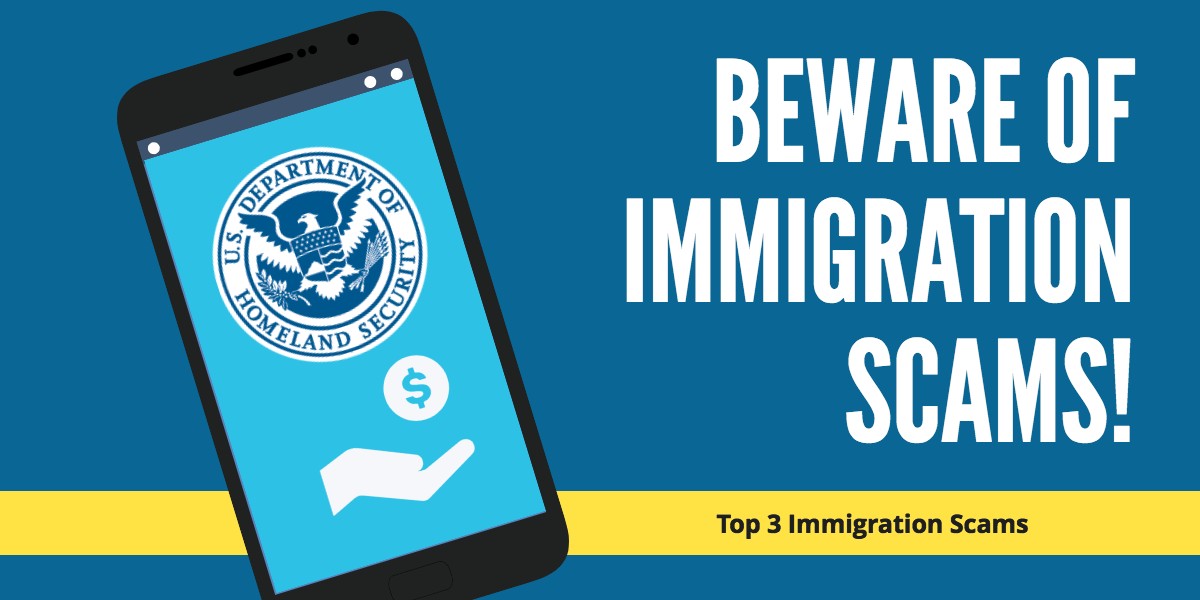 Most common immigration scams
The wrong help can hurt, and some will cost more than money. The people who get scammed will, of course, lose the money that they have invested. Whatever fees they have paid will be gone. But, more importantly, for a lot of people, their immigration status can be jeopardized. By filling out the wrong form, by missing a deadline, by having incorrect information on a form, a person's immigration status can be put in significant jeopardy. These scams can take away your chance to immigrate legally. Use this information to avoid common immigration scams.
1. Phone or email scams
Did the government call to ask you for money? That was a scam. Scammers are calling immigrants in the US and pretending to be from USCIS. In standard scammer procedure, they fake the caller ID, so it looks like they're legitimate. But they are not. They threaten people – telling them they're under investigation, or there's a legal case against them. They throw around terms like "affidavit" and "allegations." And, of course, they ask them to pay up. Scammers often tell you to pay by money transfer or prepaid or gift card.
How to avoid this scam
The government never calls or emails to threaten you or demand money. USCIS will never ask you to transfer money to an individual. They do not accept Western Union, MoneyGram, PayPal, or gift cards as payment for immigration fees. In addition, they will never ask you to pay fees to a person on the phone or by email. You can pay some immigration fees online, but only if you pay through your USCIS online account and Pay.gov.
If you get a call or email asking for your money or personal information – stop. Don't wire money. Don't get a prepaid or gift card and share the numbers. Instead, hang up and tell the FTC. Additionally, you can always check with your case manager before you pay or share personal information.
2. Online scams
If you're looking for immigration help, you might run across what look like government websites – but are actually scam sites pretending to be part of the US government. Some websites claim to be affiliated with USCIS and offer step-by-step guidance on completing a USCIS application or petition. These websites look legitimate, but they aren't. They can have names like "us-immigration.com" and "uscitizenship.info," use titles like "US Immigration," and show pictures of American flags, the US Capitol, the Statue of Liberty, or the name and logo of the government's immigration agency, "USCIS." Some sites charge for step-by-step guidance on completing a USCIS application or petition, and some even offer "guarantees."
How to avoid this scam
Get immigration information from US government websites. Make sure that the website address includes .gov.
Never pay for government forms from the US government. Government forms are free. To get free immigration forms visit uscis.gov/forms
No one can guarantee the outcome of your immigration application.
3. Notary scams
The most common scams are people who offer to provide immigration services that they are not authorized to provide. They will charge you a fee for doing that, but they will often bungle your paperwork. Sometimes they will pretend to be lawyers. Sometimes they will call themselves notarios to convince you that they are able to provide that assistance to you.
In many Latin American countries, the term "notario publico" (which is Spanish for "notary public") means something very different than what it means in the United States. In many Spanish-speaking nations, "notarios" are powerful attorneys with special legal credentials. In the US, however, notary publics are people appointed by state governments to witness the signing of important documents and administer oaths. A notario publico is not authorized to provide you with any legal services related to immigration. Sometimes a notario can even ruin your chance to get a Green Card or become a citizen. Only an attorney or an accredited representative working for a Department of Justice (DOJ)-recognized organization can give you legal advice.
How to avoid this scam
Looking for legal help with immigration? Use a lawyer or an accredited representative.
Do not go to a notario, notario público, or a notary public for legal advice. In the US, notarios are not lawyers. They cannot give you legal advice.
Do not pay a notario for legal advice. Notarios will not help you, even when you pay them.
Never sign a form that is blank. Never sign a form that has false information in it.
Do not let anyone keep your original documents, like your passport or birth certificate.
Keep a copy of every document you turn in. Keep a copy of every letter you get from the US government.
What to do if you became a victim of an immigration scam
You might need an immigration lawyer's help. Some people who are scammed lose money. But some have problems with their immigration because of the scam. A lawyer or an accredited representative can help you figure out your immigration status.
Immigration scams are illegal. Report what happened to the Federal Trade Commission (FTC) ftc.gov/complaint
---
---